Get The Best Summer Camp Options For Kids Of All Ages
How great would it be if a Summer Camp combined education, physical activity, and exciting field trips? Well, with Metro United Karate, that's exactly what you'll get! Our Summer Camps are the most well-rounded in Livonia with an emphasis on all elements of your child's development.
These day camps are perfect for children in grades 1-9 and include programming throughout the entire day, from 9am until 5pm.
Metro United Summer Camp Helps Your Child Grow In More Ways Than One
Don't settle on a camp that focuses its attention on just one aspect of your child's growth. At Metro United Karate, our Summer Camp provides instruction on a daily basis in all three areas of your child's development: mental, social, and physical!
Our Summer Camps include:
Academic Instruction: Students have certified teachers twice a per week for academic studies in the areas of Math & English. Students complete a daily reading log and parents are encouraged to send students with their summer reading requirement. PLUS, we supply reading materials for those in need!
Physical Education: Gross motor skill development is one of our strong points. We host sports, karate, gymnastics and all time favorites like four square, basketball, and soccer just to name a few. And we also have an excellent bully prevention program that develops strong children. Let us prepare your child for the upcoming school year.
Field Trips: Hosted weekly, our field trips provide a change of scenery for your child and include trips to the orchard, museums, swimming, bowling, roller skating and bounce houses just to name a few. Numerous trips to the park/playground & splash pad are a bonus in addition to their weekly field trips.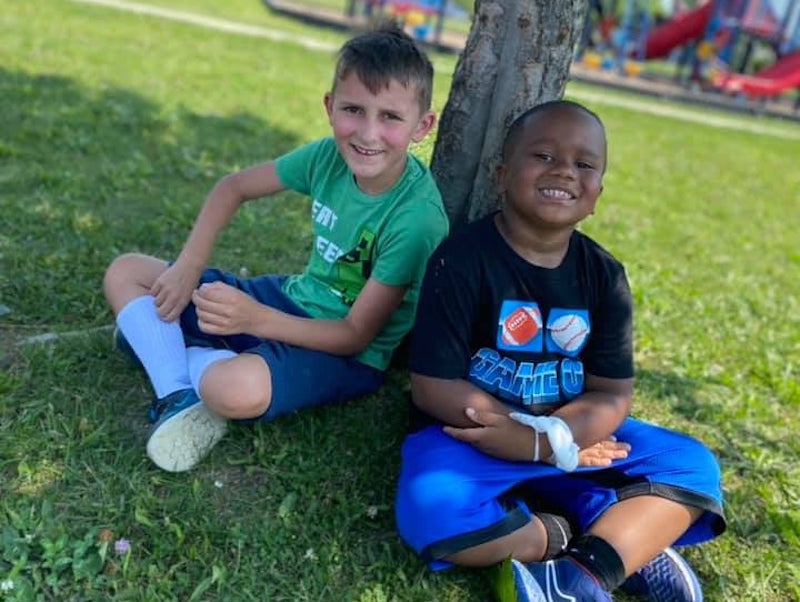 Take Advantage Of Multiple Summer Camp Pricing Options
We know no two schedules are the same. So with our Summer Camps at Metro United Karate, you can pick and choose how often your child is in attendance.
Scheduling options include:
Weekly fees
A la carte (pick your dates)
Plus early and late pick ups
And combination early/late care
Check out an example of a typical Summer Camp day:
7:15am—8:00am Super early arrival w/breakfast
8:00am—8:45am Early arrivals
9:00am - 9:45am Roll call, reading/ morning study
10:00am-10:30pm Morning snack
10:45am-11:30am Morning wellness, martial arts, yoga, kickboxing, tumbling & general fitness
11:45am-12:45pm Lunch (students must bring their own lunch that does not require heating)
1:00pm-2:00pm Story/downtime & nap (age appropriate groups)
2:30pm - 3:30pm Indoor/Outdoor sports & activities (volleyball, soccer, flag football, 4square etc..)
3:45pm-4:15pm Afternoon snack
4:30pm -5:00pm Arts & crafts, games, worksheets Pick up time is
5:00pm unless enrolled in late pickup programming.

Reserve Your Summer Camp Spot Today!
Don't hesitate to reserve your spot today with Metro United Karate Summer Camp. Spots fill up quickly and we do limit participation to ensure that each child is enjoying individualized attention through the duration of the day.
To reserve your spot now or to learn more about our pricing, all you have to do is fill out the short form on your screen. A member of our staff will be in touch soon to answer all of your questions!